Casa Clara is holiday accommodation available for rent throughout the year.
It is located in the very small village of El Soto, in Cadiz Province, with the golf course and Country club of Montenmedio within walking distance.
There is more information on the home page.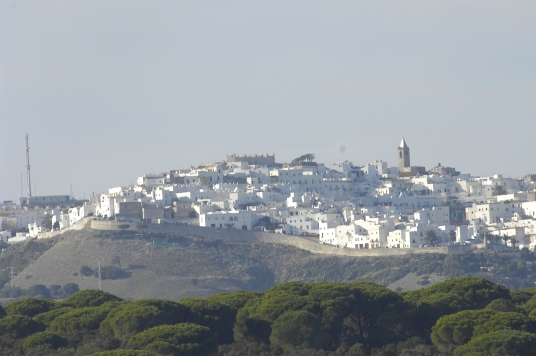 The UNESCO hilltop village of Vejer De La Frontera is only 7 kms away by road from your holiday rent, Casa Clara, and the nearest beach is in Barbate, which is 15 kms away
Jan Morris described Vejer as "Perhaps the most spectacular of all Andalucia's white villages" and it seems a fair description of the hilltop village. The town was relatively undiscovered by foreigners until around ten years ago and even today is relatively low key, especially compared to the tourist chaos of the Costa del Sol.
Here on the Costa De La Luz, things are a bit more laid back and the whole coast is almost one long stretch of glorious Atlantic beaches. Nearby beach resorts are Conil, El Palmar, Los Canos De Meca, Barbate, and Zahara de los Atunes. The lighthouse at Cape Trafalgar, scene of the famous battle is nearby.
The whole area is steeped in history, everywhere you look there are reminders of Spain's Moorish past, and you don't have to look too far to see relics of Roman and pre historic Spain.
Cadiz(Gades) is the oldest town in Europe, was settled by the Phoenecians around 5,000 years ago, whilst the Cave art at nearby Benalup Sidonia is thought to be over 30,000 years old. It was here in Cadiz, that Drake "singed the king of Spain's beard" and his attack on the harbour in 1587 postponed the invasion of the Armada for another year. Cadiz is a historic city with a lovely old town and probably the biggest carnival in Europe, it is the same time of year as the Rio carnival, lasts for ten days and sees people out celebrating all night in fancy dress.
The area is a birdwatchers paradise, especially in Spring and Autumn as we are located just over a half hours drive from Tarifa at the start of the the Straits of Gibraltar which is one of the the top three crossing points in Europe for migrating birds.

This website from the provincial tourist board provides excellent information on the whole Province of Cadiz ;-
http://www.cadizturismo.com/?set_language=en
Medina Sidonia is a hilltop village 30 kms away and is famous for its underground cellars and cloaca (ancient sewer system) now open to the public.
Montenmedio is the nearby equestrian centre, with the famous Sunshine Tour in February/March. Many people come to El Soto at this time of year looking for self catering, so that they can walk to the events. There are also events throughout the year:-
http://www.montenmedio.es/index-e.php
Seville, the capital of Andalucia and under two hours drive away.It has a massive holiday around Holy Week and then is followed almost immediately by the Spring Fair. A vibrant city, from flamenco to wonderful tapas, the famous cathedral, Alcazar, and old town, Seville has it all. http://www.sevillatourist.com/
Jerez, at the heart of the Sherry triangle, the other two towns being Cadiz and Sanlucar. It is world famous for its sherry and you can visit some of the bodegas and sample some of their drinks most days. It also has a lovely old historic town and a huge feria de caballo, the horse fair, held every year in May.
http://www.turismojerez.com/index.php?&L=1
Bolonia is a small coastal village 30 kms away, famous in Roman times for its garum (fish) paste. The impressive Roman ruins are open to visitors, but what is exceptional is the spectacular setting for these ruins- they begin about 50 metres from the beach.
Tarifa, only half an hour away from Casa Clara. The windsurfing capital of Spain and with its Moorish architecture and streets, it is only a short distance from Tangier in Morocco.
Ferries can be booked from here. http://www.frs.es/
Tangier, take a day trip from Tarifa and soak up the souks. The ferries leave from Tarifa every 2 hours and only take 35 minutes to cross the straits. It costs around €30 each way, although a guided tour with lunch only costs around €60. http://wikitravel.org/en/Tangier
Gibraltar. Duty free shopping and fish and chips! Although the cable car ride to the top of the rock is definately worth a go. When I went, I took a cable car to the top, where the views to North Africa, the Costa Del Sol and the straits are exceptional, and then walked back down again, pausing at a limestone cavern which holds concerts and of course, stopping to see the apes. http://www.discovergibraltar.com/index.htm
Grazalema is in the natural park which bears its name and makes for a full day out. Leaving El Soto, you could go to Medina Sidonia, then another ancient hilltop town of Arcos de la Frontera, before driving round the stunning scenery of the park. If you weren't feeling too tired, you could go on to Ronda before returning home via Alcala de los Gazules (nestled in the foothills of Grazalema). The drive alone takes around 6 hours and it is a very long, but very rewarding day.
Donana National Park is visited by boat from Sanlucar de Barremeda, and must be booked in advance. There are Iberian Lynx in the Park, although you would be very lucky if you were to catch a glimpse of these elusive creatures. http://en.wikipedia.org/wiki/Do%C3%B1ana_National_Park
It is possible to have a vacation at Casa Clara for one week and then spend a week in either Granada or Cordoba, both these historic cities are about three and a half hours drive away

Interpreter/Translator/Spanish Lessons
Petra Scheiwe is a friend of mine and a trilingual interpreter, proficient in English, German and Spanish.
She also teaches Spanish and can give you lessons whilst you are over here, if you want to improve your Spanish whilst on holiday.
If a situation should arise where you need her services, Petra can be contacted through her website on this link :- http://www.lingualuz.com/en/about-me.html
Local Activities
Horse riding. Day, short breaks and weekly holidays for experinced riders can be arranged through http://www.fantasiaadventureholidays.com
Birding. The area is one of the best sites to watch birds in Europe. The best times to visit are during the migrations which take place every Spring and Autumn, although it is good throughout the year.
Windsurfing /Kitesurfing. This sport is mainly done at Tarifa , the windiest place in Spain and 30 minutes drive.
Surfing. The beach at nearby El Palmar is ideal for surfing.
Golf. There is also a golf course within walking distance of the house, at nearby Montenmedio
A good link to the weather forecast for around 50 places in Cadiz and around 2,000 places in Spain can be found here:-
http://www.aemet.es/en/portada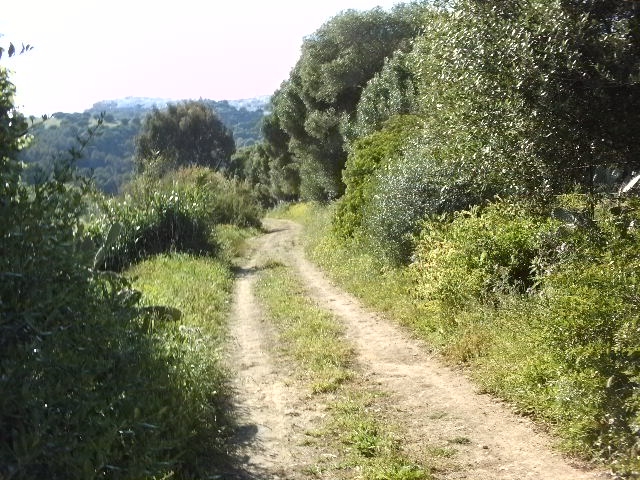 It is possible to walk to Vejer from Casa Clara, part of the way is beside the Rio (River) Barbate above. The walk takes around one and a half hours and brings you out in the Plaza De Espana in Vejer.