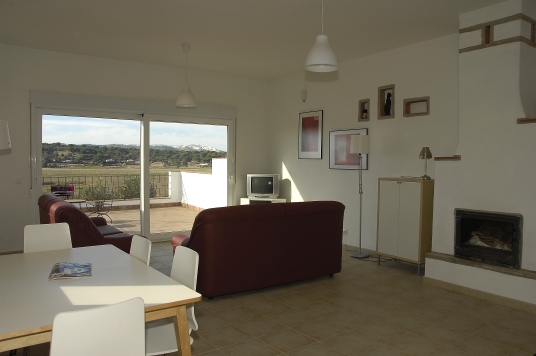 This newly built holiday house has absolutely stunning views of the historic white village of Vejer De La Frontera
These may be enjoyed from the patio and roof terrace or the large open plan living room.

The equestrian centre, country club and golf course of Montenmedio, home of the 2021 Sunshine Tour are within walking distance.

This light and airy house is a short drive from the beaches, and is a perfect place to take it easy and enjoy the tranquility of Andalucia. Either the spacious living room or the patio in front are ideal places to sit and relax or lounge in the sun. This well designed holiday home has a few unusual features including the fireplace, and the mosaic tile built bath being two worthy of mention.

The living room/kitchen is over 40m2 and from here you walk up 3 steps in this split-level house to the bathroom and bedroom. The fully fitted kitchen has stone worktops, microwave, hob, oven, fridge, toaster, coffee maker, kettle and dishwasher. There is a small washroom with washing machine and drier five metres walk away. The total living space of the property is approx 65m2; the front patio is 25 m2. & roof terrace 65m2 .

Casa Clara was completed in 2007 and sleeps up to 4 people, 2 in the bedroom and the other two using bed settees in the living room.

There are plenty of fans to keep you cool in summer and in winter the house has central heating as well as a log fire to keep you warm. A gas heater is also provided.

There is a TV and DVD player with a selection of dvds as well as English Satellite TV. The house also has a free internet connection.

Casa Clara is a holiday rental with parking and a garden of approximately 150m2 which has several fruit trees and a grapevine – in season, pick your own apples, oranges, pears, apricots, plums and grapes.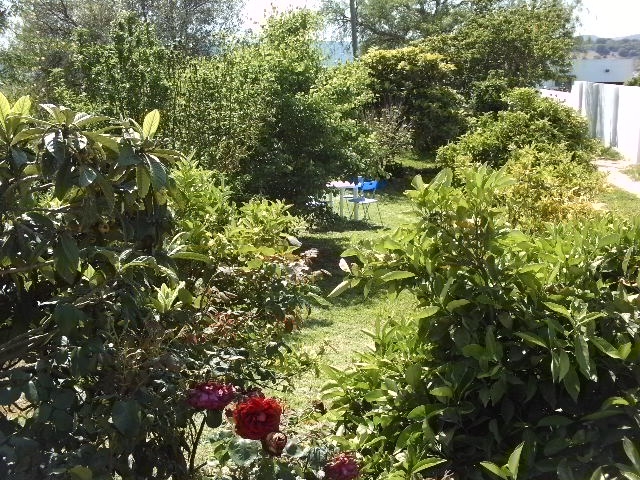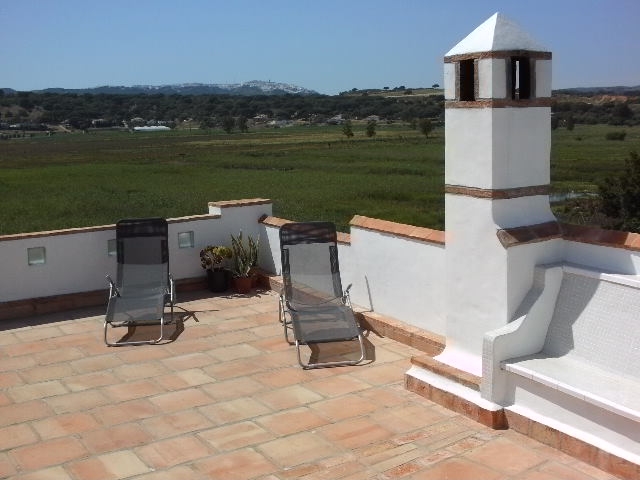 view from the roof terrace
We also have access to over 3000 second hand English books, choose some of these books free of charge to read during your stay!
For birders, there are many storks about and I have seen Marsh harriers, Booted, Bonelli's and short-toed eagles as well as many other raptors. This area is one of the main migration routes for birds crossing the Straits of Gibraltar.

Furthermore, there is a colony of extremely rare Northern Bald Ibis at nearby La Barca de Vejer. It is about 6kms away by road, or 3kms as the crow (or ibis) flies, occasionally they fly over Casa Clara.

Very rarely, in winter, I have also seen flamingos.
Also, the springtime wild flowers displays every April and May are spectacular.
This self catering accommodation is in the small village of El Soto, which has two traditional Spanish bars, one of which has a small restaurant.
Casa Clara is in the small village of El Soto, nearby Montenmedio has several restaurants as well as a golf course and in February the "Sunshine Tour" with around 1,500 horses competing in one of the busiest equestrian events in Europe. The event lasts for over five weeks, with people competing from all over the world. The first two weeks are dressage, followed by show jumping.
The rest of the year is very quiet however, perfect for a romantic break, or as a base to drive to the beaches and many sights, or enjoy the bars and restaurants of the nearby resorts.
The changeover day is Saturday, although outside of peak season we are flexible. The house is available for rent the whole year round.
The fabulous white village of Vejer is around ten minutes drive away and Barbate´s beaches are 15 Kms away. It is only a little further to the beaches of El Palmar and Caños De Meca , whilst the windsurfers paradise of Tarifa at the far end of the Costa De La Luz is a half hour away.
Casa Clara is about 1 hour's drive from the airports of Jerez and Gibraltar, while Malaga and Seville are around 2 hours away; airport transfers can be arranged as well as any excursions', but car rental is strongly recommended.